Hello dear community

We hope you are enjoying our latest patch, 1.2.0, along with the hotfix 1.2.1! 

Never resting, we have taken the new year by storm as usual and dished out another launcher update - this time containing, among other things, a version controller that can check a number of things for you to ensure Multiplayer compatibility and a bug-free experience, as well as download speed and time remaining counters for the Download section.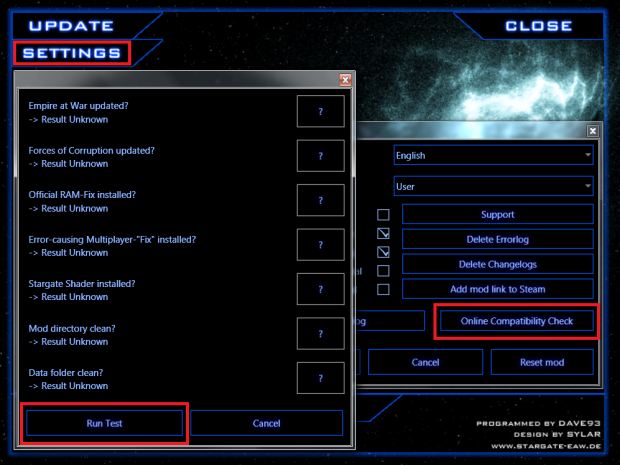 To access the launcher's built-in online compatibility check, click "Settings" and then "Online Compatibility Check". Click "Run Test" to determine the results.


We would also like to announce the return of one of our previous adventures, the Play with the Developers event! 
We will be hosting a new event on Saturday, the 25th of January 2014. The event is scheduled to start at 18.00 GMT + 1, more information below. 

Finally some information on how to set up your game so you can play with everyone else, and how to access the TeamSpeak server: 


Thanks CityMC for once again providing us with a public TeamSpeak server! 

We will start the event at 25.01.2014, or the 25th of January, 2014, 18:00/6 p.m GMT + 1 - closing ~01.00/1 a.m the 26th. All times mentioned are GMT + 1, meaning 18.00 in the middle of Europe is 12.00/12 a.m on the east coast of the US (New York). A handy tool to make sure you don't miss the event is the The Time Zone Converter
 (try with New York - Berlin etc) 


Download TeamSpeak 3 HERE
 

This is the IP of the TeamSpeak server: stargate.citymc.de  

Click HERE to connect to the server after installing TeamSpeak 3. 

As a multiplayer game may only take place if the participating clients have the exact same files as the host (and then obviously each other as well), please ensure that you can join a TPC multiplayer game before participating in the event, as the developers will only provide limited support, see below. 

In order to ensure compliance in multiplayer, please use our Online Compatibility Check feature built into the launcher (in Settings) and check chapter 6 in our FAQ. 


In order to assemble everyone in one place, please make sure that you are using the German master server ingame. 


To use the German master server go to the main menu of the mod. From there, click Internet -> Multiplayer -> Then log in and click Connect -> Click on Options in the right-hand menu and change the "Host Location" to "Germany" -> Click Accept.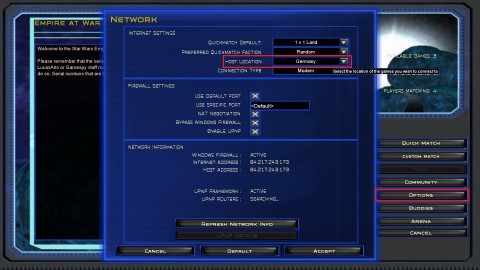 As the developers attending each event will have their hands full with organising people you should only expect minimal support from us. 

Please make sure that your game and mod installations are clean and that you have the RAM-fix if you are using more than 4GB of DRAM on a 64-bit system, HOWEVER please run our compatibility check and click "Fix" on the the "Multiplayer fix" bug causing the MP lobby to crash if you have installed the RAM fix! 

More information can be found by reading our Frequently Asked Questions at our forums: FAQ

See you in the fray! 

Sincerely yours, 
the Stargate Modding Group